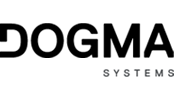 Dogma Systems S.r.l. is a software house born in 2008 from the dream of Mauro Chiarugi, of creating an instrument that could allow companies and people to work in an ideal way, simplifing their activities.
Dogma Systems is a young and dynamic enterprise that has reached big results and is continuously growing. In 2008-2011 it registered a 103% increase in turnover. It is a big result in comparison with the economic crisis.
Dogma Systems is a young company but already grown up. Chiarugi explains:
"Dogma products are the point of reference for Italian and foreign companies, in fact, we have always considered the world as a unique big market, and we are committed to develop useful solutions for all the people and for all companies present every where in the world.
The secret that is at the basis of the success with a lot of possibilities of growth is simple but challenging at the same time is "listening to the customers so that the company improves its services and products everyday and continuing to win more market share."